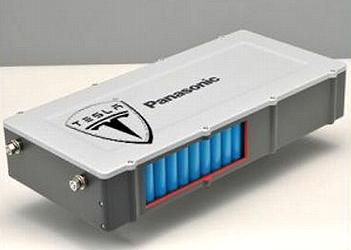 One of the central elements of cleantech these days is electric cars, and you can't talk about electric cars without talking about Tesla Motors. increasingly, you can't talk about Tesla Motors without talking about the batteries it uses to propel its world-leading electric car forward. Notably, its battery cells exclusively come from Panasonic.
This battery market is no small market. Within a few years, Tesla and Panasonic are jointly planning to produce as many batteries per year for Tesla's vehicles as were produced globally for all purposes in 2013.
What's important to note is that there are a lot of different types of lithium-ion battery technologies, and Panasonic beat out a number of top battery makers to become Tesla's exclusive supplier. 
Aside from other automakers that use Tesla's battery packs, no other automaker uses Panasonic's lithium-ion battery cells. But I think the competition is going to have to step it up in order to compete in a few years. Reportedly, Tesla's Panasonic-based battery packs are considerably cheaper relative to power capacity than any other lithium-ion batteries on the market. Furthermore, Panasonic and Tesla's battery gigafactory is going to result in large economies of scale that will bring their price down much further. The aim Tesla has stated numerous times is that the gigafactory will bring down the cost of its batteries 30% by 2017.
If all goes well with the gigafactory, and there aren't yet any signs to the contrary (a site for the factory has been selected 4 months early), we could well see other electric car manufacturers wanting to make the switch to Panasonic's battery cells, followed by the construction of more and more gigafactories. Tesla Motors CEO, Chief Product Architect, and chairman Elon Musk has stated that hundreds of gigafactories will eventually be needed in order to assist the transition from gasmobiles to electric cars. If that's the case, how many of those will be Panasonic factories?
Aside from batteries, Panasonic has a big hand in other cleantech markets as well: efficient refrigeration units, a fuel-cell battery cogeneration system, home energy management hardware and software, and LED lighting and battery control systems that are compatible with PV.
Also, in the solar energy market, Panasonic is consistently the solar PV cell efficiency leader. In 2011-12, Panasonic reports that ~40% of its revenue was coming from renewable energy.
Panasonic is a finalist in the 2015 Zayed Future Energy Prize "Large Corporation Category." It is competing against IKEA, First Solar, and Enel Green Power.
Originally published on Sustainnovate.