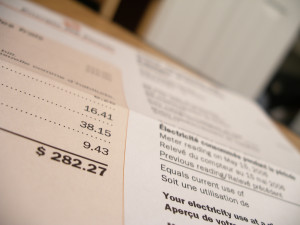 Your rooftop solar is going to generate less electricity over the winter months. Your hot water and heating costs will also become a larger portion of your bill and for most places your utility bills get more costly as temperatures drop. On top of this, as residential electricity charges continue to rise, it becomes increasingly important (and cost effective!!) to reduce your electricity consumption. So what options are there… DIY? Professional Consultants? If you've got some technical know how you can attempt to optimise your home energy consumption yourself… or you can fork out thousands on professional advice and installation. Even so, many of the most innovative technologies have previously been reserved solely for the commercial sector. Now, there is a growing number of innovators working to bring new energy efficiency solutions to the residential sector. Residential energy efficiency, connected home and internet of things are fast growing market trends and there are many innovative startups that have been breaking into these spaces in 2014.
After wading through many great innovations (and admittedly some terrible ones) I've complied the top 3 'Green Innovations', in 2014, that will help you to save you money on your power bills. The 'Green Innovations' that I have chosen cover the most common energy conservation opportunities: space heating/cooling, hot water use and energy use behaviour modification.
EcoVent
Room-by-Room temperature control in the palm of your hand
EcoVent is a Boston based startup that makes wireless air vents and sensors for the home. The application of it's technology allows user to change the temperature of different rooms within one building. Boston, MA – In October EcoVent raised $2.2million to fund it's missile engineers to take it's home heating/cooling vents to market. EcoVent has developed motorized vents and sensors so that home owners with forced air heating or central air conditioning can avoid heating or cooling empty rooms.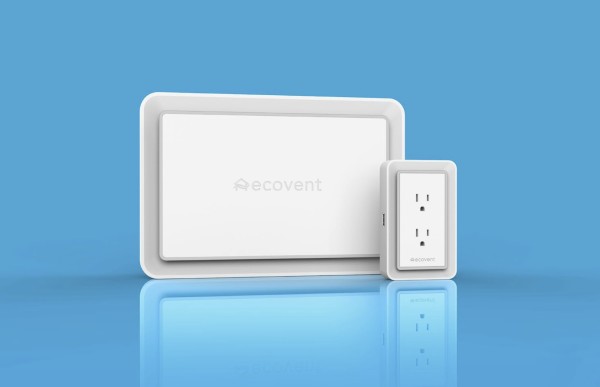 [Photo credit: EcoVent, 2014]
By placing one sensor in each room, the EcoVent can precisely measure the climate of that space and send that information to the control hub, the brains of the operation. The vents replace the users existing vent, they open and close based on input from the sensors, allowing a certain amount of conditioned air into each room to achieve the users desired temperature. CEO and co-founder Dip Patel said that "The idea came to me in 2008, We were saving money for my wedding," he said. "Indian weddings are pricey." So, as part of the belt-tightening he went through, he closed the vents in unused rooms during winter. "My mother came and I had forgotten to open the vents," Patel recalled. "She almost froze." Following that near-matricide, he decided "there must be a way to make these vents motorized," but, at the time, "the tech wasn't ready yet." It is now, he said. The startup has developed battery-run mechanical vents that can replace existing room vents. The vents open or close in response to a climate sensor in that room. Each room's sensor fits into an electrical outlet, and additional outlets on the sensor's front plate ensure that lamps still have a place to plug into. A central panel for the entire house completes the system. Like nest, the EcoVent learns from the users behaviour and automates it's settings. The main concern for the startup is it's high price tag. EcoVent estimates that to upgrade a users air vents it will cost about $200 per room. An average four bedroom home, with 10 rooms total, would run about $2,000. The EcoVent has completed beta testing which confirmed a heating and cooling reduction of 30-40%. Even with these savings the high retrofit cost of the EcoVent will mean that the payback period for the product will be too long for consumers purely looking for cost savings. Heating and cooling costs equate to roughly 45% of total consumption so consumers could expect 13.5-18% savings from EcoVent on their total electric bill. The technology does have a better outlook for the new home market as savings could be made without retrofit costs. The startup has a strong team, innovative technology from an outside view I would say that their main concern would be the cost of the devices and installation. The ability to reduce the costs would make a better case from not only a energy efficiency standpoint but also from a financial standpoint. EcoVent's Website
Chai Energy
Save's Users up to 20% on their Energy Costs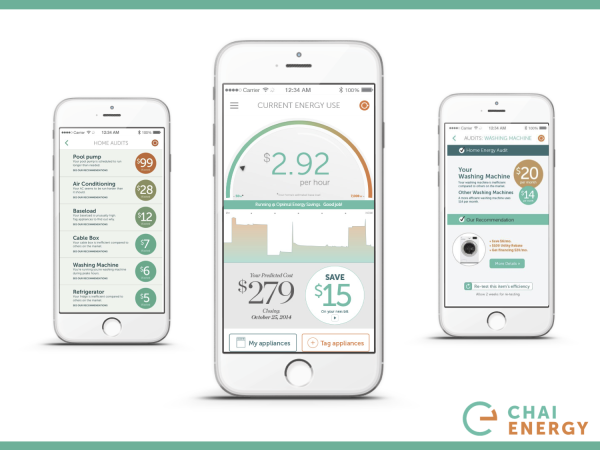 [Photo Credit: Chai Energy, 2014]
Chai will tell you exactly how and where you're spending your hard-earned energy dollars in your home and can help identify big savings opportunities on your next electric bill. Do you know how much electricity you're using, how much it's costing you in real time and how much your next bill will be? Chai does. Chai can even notify you when you have accidentally left appliances on, keeping you safe and saving you even more. Los Angeles, CA – Founded in 2012 at Caltech, while working on a solar home project. CEO and co-founder Cole Hershkowitz said that "many of us at Chai worked on Caltech's Solar Decathlon project in which you build a technically innovative and architecturally inspiring solar home. While building the home, we found it challenging and time consuming to make sustainable decisions, let alone understand our own energy use. Through this experience we knew that it should be easier for homeowners to understand energy use.  After spending nine months working on various projects (myself working at Southern California Edison), we brought some of the team back together to take what we had learned about sustainable living and try to apply it more broadly." Currently housed at the Los Angeles Cleantech Incubator (LACI) in downtown Los Angeles, Chai seeks to improve residential energy efficiency by providing superior energy understanding. Chai plugs into an internet connection, connects wirelessly to their customers' smart meter, and immediately begins to measure how much electricity their appliances and electronics are using.  Chai then relays the information to the cloud where specific appliances are identified by the patterns in the energy data. Chai then shows customers where they are wasting money on their utility bill and exactly what they can do about it. Smart Meter customers waste on average $300 a year on their energy bill. Chai's fun mobile application shows homeowners where they are wasting money and with Chai's push notifications to the smartphone, tells homeowners exactly what they can do to stop wasting energy and money in real time. As energy costs rise and time of use energy rates (TOU – the cost of electricity fluctuates pending on the time energy is being used) go into effect, the cost savings with Chai increase considerably making Chai even more valuable for customers. Additionally, Chai's notifications can inform customers when home appliances are turned on and off, or even left on for extended amounts of time. Chai will notify users if they leave the house with the stove on or if their fridge door is left open. Chai can also detect when home appliances are off that should be cycling on and notify the customer of a potential problem with a home appliance. This is a safety feature included with Chai and helps give the customer peace of mind when they are away from their home. Currently California has a $25 consumer rebate that will help to reduce the hardware cost of the Chai solution. CEO and co-founder Cole Hershkowitz said, "We really started Chai to give consumers a way to live green and save money on their bills through a simple understanding of their energy use in their homes. We aim to demystify your bill, your meter, and your utility for you."
Recent interview on Chai Energy…
Hershkowitz said he's most looking forward to an new era of empowered consumers. He said, "Customers should feel like they have a new-found ability to control their own energy use, their bills, understand their homes, and generally live more comfortably.  Today we are helping homeowners understand their energy use and their homes, tomorrow we want to give them control over that world." Join Chai's Pilot Program
Amphiro b1
Energy feedback where it's most helpful, In the Shower!
Amphiro b1 is the world's first smart meter for the shower that informs you about your current water and energy consumption, provides you with real time feedback and thus enables you act up to your standards. Zurich, Switzerland – Founded in 2009, Amphiro looks to to pursue the following mission: Combine innovative information and communication technology (ICT) with behavioral science in order to increase energy efficiency of hot water usage. Amphiro has built a small, retrofittable, self-powered shower meter that provides real time insight into how much water and power you're using. Amphiro is focused on providing real time energy understanding while you're actually in the shower. It doesn't cut you off after a certain amount of time or limit your use of hot water. Instead, it simply displays the amounts of water and power you've gone through in big, easy-to-see numbers. This allows you to understand how your shower habits will affect your upcoming power bill. Amphiro is really changing the way people shower as a study commissioned by the Swiss Federal Office of Energy showed average savings of 23% (440 kWh heat energy & 8500 l drinking water). Amphiro communicates with an iOS app to give you real time energy information on your iPhone or iPad.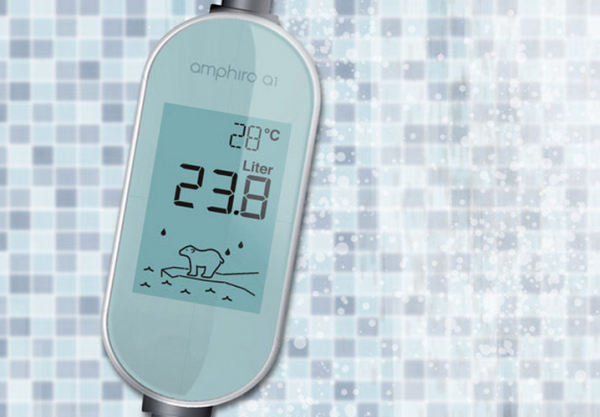 [Photo Credit: Digital Trends, 2014]
Amphiro's first product launched on to the market in 2012. The Amphiro a1 (without Bluetooth) has more than 16,000 devices currently in use, and the company looks to improve upon the product with the new b1 device.
Amphiro's new product will be equipped with a Bluetooth 4.0 module for being able to send data automatically. The first prototypes of Amphiro b1 – the device and the app – have been developed during the past months. By the end of January they plan to have the hardware for Amphiro b1 finalized. After that the final app will be developed, so that Amphiro b1 can enter the production process in April. They plan to ship Amphiro b1 in May.
Amphiro b1 Kickstarter Campaign
Growing Market
With the growing internet of things , connected home and energy efficiency market trends my predictions are for even more innovations like these in 2016 and beyond. This is good news for home owners as these tools will make it easier to save on utility bills. Bringing innovations like these to market will help us gain a better understanding of where our money is going on our electricity bills.
"What gets measured gets managed" – Peter Drucker
Understanding is one thing, taking action is another. The likely future of these startups will depend largely on the application of behavioural research and combining this with technological advances.
This post was orginally published at ecofounder.net – startup skills for engineers and scientists.