Community Choice
In most states, a city wanting to change its energy future has two options: beg its utility or form its own. But one state-level policy opens a third way for cities to have more choice over their energy options: community choice aggregation (CCA).
Now authorized by legislatures in 6 states, community choice aggregation has been called "municipalization lite," allowing cities to control both the cost and amount of renewable energy in their energy mix without buying the electric grid. Instead, the community picks the power sources and the existing electric utility maintains the grid infrastructure.
Below is part two of our City Power Play Report , a report released in October 2013 about the types of policy solutions cities can enact to increase their ownership of renewable energy. Be sure to come back and read part 3, published in the next week, and read part 1, released earlier this week.
Adapted from Sonoma Clean Power
Once a state law is in place, the local governing body can explore the formation of a CCA (henceforth called "community utility"). This process usually includes a feasibility study examining the setup costs as well as the potential savings to consumers, increased energy savings, and increase in renewable energy. Next, a vote must occur within the governing body or via public referendum (state laws vary) to form a community utility. A municipal governing body typically develops a plan outlining governance, a financial plan, and a process for making changes to rates, energy supply, etc.39 Each participating municipality must pass an ordinance to join the community utility.
The basic principle is that residential and small commercial customers are "aggregated" by a municipality, which becomes their negotiator with energy companies. The city or country (or an amalgamation of several) solicits bids for electricity to serve this aggregation of customers. Individual customers can opt- out of the community utility and remain with the current utility provider.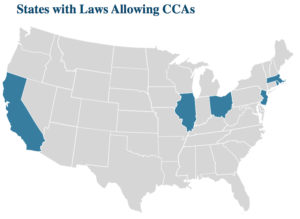 Most communities that have joined or formed a CCA have primarily focused on lowering the cost of energy and energy efficiency. The Cape Light Compact in Massachusetts has served 200,000 customers in over 20 municipalities since the late 1990s, negotiating lower electricity prices. The Northeast Ohio Public Energy Council is the country's largest CCA serving 134 communities, and has achieved lower electric bills and less polluting power sources since its formation in 2001.40
The California CCA market has several prospective entrants after nearly a decade of legal battles between supporters of early CCA efforts and Pacific Gas & Electric. The issue was finally resolved after PG&E lost a ballot measure to restrict CCAs and additional state legislation was passed requiring PG&E and other incumbent utilities to cooperate fully with communities seeking to form CCAs.
Some newer CCAs have had a sharper focus on cleaner energy, and in some cases, have used the opportunity to focus on keeping more energy dollars in the community.
Marin Clean Energy
The community utility serving 125,000 customers in Marin County and Richmond, CA, was authorized in 2008 by a unanimous vote of county supervisors and launched in 2010 with an immediate focus on cleaner energy.41 Participating communities joined the community utility by enacting a local ordinance.
The Marin Energy Authority's default electricity service is 50% renewable, with renewable power (or credits purchased from Shell Energy) supplied from wind, solar, and biomass projects in California, Oregon, and Washington. Customers can also pay a premium for 100% renewable energy service.
Clean isn't the only focus. The community utility intends to save a nation-leading 2-3% of annual sales with energy efficiency, by increasing incentives, providing financing through the utility bill, and aggressive marketing.42 They also intend to use demand response programs (e.g. cycling customer air conditioners during times of peak energy demand) to reduce the peak energy use of the utility by 5%.43 Such measures can reduce energy costs by using less, avoiding purchases of expensive energy when it is in short supply, and by shifting energy demand to periods when energy is less expensive.
The community utility also intends to increase local procurement of energy, touting its economic benefits. So far, they buy power from a 972 kW solar project at the local airport that was built with local labor, and financed at a local bank.44 The utility's resource plan calls for up to 10 MW of local distributed solar energy. Contract prices start at approximately 14¢ per kWh for the first 2 MW of capacity, and are reduced for each additional 2 MW tranche of capacity added, to 10.5¢. So far, the program has subscribed close to 2 MW. If the program is completely subscribed, it would supply about 20% of the community utility's renewable energy.
Oak Park
Oak Park is one of hundreds of cities in Illinois that adopted municipal aggregation in 2011 and 2012. Abnormally high electric rates from incumbent utility Commonwealth Edison led many of these communities to change suppliers, with rate savings of 25-30% for customers.
In April 2011, Oak Park adopted a CCA by public referendum, as required by Illinois law.45
Oak Park differs from other cities in the state because its aggregation program is buying renewable energy credits from regional wind farms sufficient to cover all of the electricity sales for its customers, making it "100% renewable." This practice is somewhat controversial (see RECs and Rascals sidebar).
The city is also considering adding in a locally managed energy efficiency program, like Marin Clean Energy.46
Challenges with CleanPowerSF
Since passing an ordinance in 2007, the city of San Francisco has been investigating community choice aggregation, but the proposed community utility still faces several roadblocks.47
The city's public utilities commission (SFPUC) has been working for three years on the implementation of a plan, approved by the Board of Supervisors (city council) in 2010, to deliver 100% renewable energy to the city's residents and small businesses. The plan would come at a monthly premium to existing electricity service from incumbent monopoly utility PG&E. Original forecasts had energy prices doubling, but revised rates would increase costs by about $5 per month for residential customers.
But while the proposed program would rapidly shift the city's energy supply to clean sources, it's not clear that it would result in any new (or local) renewable energy. Like Marin Clean Energy, CleanPowerSF contracted with Shell Energy (a subsidiary of Shell Oil) to buy renewable energy credits to fulfill anywhere from 45 to 85% of the clean energy supply,48 with promises to focus on more local energy generation in the future. Mayor Ed Lee is critical of the program's renewable energy claims and the perceived lack of local economic development.
The program is temporarily on hold after the city's public utility commission refused to set rates at their August 2013 meeting, after nearly a year of debate.49 Furthermore, the commission and mayor have indicated an interest in using money set aside for CleanPowerSF to repair water and power infrastructure damaged in the 2013 Rim Fire near Yosemite National Park and the Hetch Hetchy reservoir.50 If that happens, it may halt the progress toward a community utility indefinitely.
For More Information
CCAs are growing in several places around the country. Activists in San Diego have formed an Energy District campaign for a CCA. Sonoma County, known for its leading PACE program, has already completed a feasibility study showing it could get up to 60% of its power from local sources.51 Their aggregation, Clean Power Sonoma, is scheduled to launch in early 2014 with 33% renewable energy, rising to 50% by 2018.52
CCAs also continue to expand in Illinois and Ohio, where retail electricity deregulation or earlier authorizing laws have removed major barriers.
While CCAs grant local control, they are not necessarily about local energy, as Midwest Energy News reports:
For example, Marin Clean Energy contracts with a Shell Oil subsidiary for its renewable energy certificates, as does Oak Park and Cincinnati, OH. San Francisco's CCA is being held up in part by the perception that it is just switching corporate overlords and doing too little to shift to clean, local power.
Much like a municipal utility, a CCA is simply a tool that provides a community with more opportunity to clean and localize its energy future, but it's no guarantee.
Building Codes
Building codes establish minimum standards for building safety and energy use, and they are one of the most effective and cost-effective ways for communities to save energy dollars.
States generally set minimum standards for energy performance of buildings. Typically, these codes apply to new construction, and differ for residential and commercial buildings. All but 8 U.S. states set residential building codes at the state level, and all but 7 set commercial codes at that level.54
Many states also allow some or all cities to set their own, higher standards. The following map shows which states allow some or all cities to set building energy codes locally. The U.S. DOE publishes a regular map of currently adopted state energy codes.55
The communities that use this authority can save millions in energy costs over the lifetime of their buildings, and accelerate their progress toward a smaller climate footprint. To get a sense of the benefits of action on energy codes, the following graphic shows the relative efficiency of typical energy codes for buildings.56 The most common is the International Energy Conservation Code (IECC). The IECC codes are prescriptive standards: setting new energy efficiency targets for buildings and detailing the specific measures builders must take to meet those standards. Adopting new codes can make a significant difference for new buildings. For example, a community that adopts the 2012 IECC in replacement of the 2006 version will save the average homeowner anywhere from $150 to $1,100 per year in energy costs.57
As shown in the following table, many municipalities that have the authority to exceed state standards have done so, recognizing the cost-effectiveness of action. Many have adopted the latest IECC Code (2012) and others specify an improvement relative to the state standard (e.g. Massachusetts cities and Santa Monica, CA).
Future improvements in building energy efficiency may be easier. Major environmental groups have recently reached an accord with home builders – who frequently oppose code updates because of higher upfront costs – to implement a residential building performance standard that is 20% better than IECC 2012.58 The standard would give builders more flexibility than the current IECC standards, because the methods of measuring performance in the proposed standard are easier and less costly than those typically allowed under state-adopted IECC standards.
The accord may also help address the major failing with building codes – enforcement. While many states set energy codes, they often leave enforcement to cash-strapped cities. The Institute for Market Transformation estimates that compliance with building energy codes is as low as 50% in some areas, but that every $1 spent on enforcement returns $6 in energy savings.59 See IMT's state-by-state interactive map on potential energy savings from improved enforcement.60
For More Information
Austin, TX, energy code61
Boulder County, CO, energy code62
Babylon, NY, energy code63
Seattle, WA, energy code64
Massachusetts state "stretch" energy code65
Santa Monica, CA, energy code66
Marin County, CA, energy code67
Local Taxing Authority
Few things can accomplish more than the local power of the purse, and at least two municipalities have used local taxes to power up their economy and advance clean, local energy generation.
Boulder's Carbon Tax
In Boulder, CO, citizens approved a local carbon tax on electric bills in 2006 to finance investments in energy efficiency and local renewable energy. The tax, increased to the maximum authorized amount in 2009, generates approximately $2 million per year. The rate per kilowatt- hour varies by customer class, shown below.
Most of the carbon tax revenue supports the EnergySmart program that conducts energy audits of residential and commercial properties and makes recommendations to building owners about potential energy savings. The tax revenue also supports solar rebates (Boulder has some of the most solar energy per capita in the U.S.) and energy conservation programs for businesses.68
The carbon tax in Boulder is part of a broader effort to move toward energy self- reliance, including building energy ratings, a climate action plan, the most recent international building energy code, and voter authorization to pursue a municipal electric utility to ramp up renewable energy development.
For more information, see the Climate Action Plan Excise Tax in Boulder's city code.69
Babylon's Innovative Solid Waste Fund
In Babylon, NY, town leaders repurposed an existing fund to energy savings. The municipal solid waste fund had a surplus, and town officials wanted to use that money to help residents save money on their energy bills. They changed their town's definition of solid waste to include carbon emissions,70 allowing them to use the collected funds to set up one of the first and most successful PACE programs for financing energy efficiency improvements.
Read more in our PACE Program section or see the definition of solid waste used by the Town of Babylon.71
Solar Mandates for New Homes
While some cities have focused on reducing energy use to keep more money in the local economy, others have focused on producing (rather than importing) more clean, local energy.
Lancaster
Lancaster, CA, made waves in the spring of 2013 when its city council unanimously approved revisions to their zoning code, requiring new housing developments to average at least 1 kilowatt of solar PV capacity per home.72 Developers must meet the requirement for every phase of development, but the code allows them to aggregate the requirement into larger projects.73
"We want to be the first city that produces more electricity from solar energy than we consume on a daily basis," Mayor R. Rex Parris said in an interview with the New York Times.
Meeting the mayor's solar goal requires a total in-city generating capacity of 216 megawatts (a world-leading 1.44 kilowatts of capacity for every resident in the town of 150,000). About 90 megawatts are already producing power or are in development.74
Lancaster also created a power authority to attract solar investment. The authority has partnered with various private companies, including SolarCity, to share revenue from solar power purchase agreements. For example, the power authority will issue bonds to prepay for electricity from installed solar arrays and sell it to area schools. City staff estimates the city's schools will save $43 million in electricity costs over the 25-year term of the agreement, and the power authority will recover 130% of the debt service payments in selling the energy to the schools.75
Sebastopol
Sebastopol, CA, followed shortly behind Lancaster in 2013. Their ordinance is more ambitious, requiring solar installations on new homes to provide 2 Watts per square foot (e.g. 4 kW for a typical 2,000 s.f. home) or offset 75% of the home's electricity use.76
Parking lot canopy solar array at Lancaster Jethawks stadium. Credit: Todd Woody.
This part two of our City Power Play Report, a report released in October 2013 about the types of policy solutions cities can enact to increase their ownership of renewable energy. Be sure to come back and read part 3, published in the next week, and read part 1, released earlier this week.
Originally published on ilsr.org. For timely updates, follow John Farrell on Twitter or get the Energy Democracy weekly update.
Footnotes:
More information available from the Local Energy Aggregation Network: http://www.leanenergyus.org/cca-resources/.
Farrell, John. Community Choice Aggregation An Update. (Institute for Local Self-Reliance, June 2009). Accessed 9/11/2013 at http://www.ilsr.org/community-choice-aggregation-update/.
Marin County CCA ordinance: Accessed 9/24/2013 at http://tinyurl.com/lhg7jy7.
Marin Energy Authority Energy Efficiency Program for 2013-2014. (Marin Energy Authority, revised 5/7/2013). Accessed 9/18/2013 at http://tinyurl.com/oy4b6qg.
Power Sources. (Marin Clean Energy, 2013). Accessed 9/11/2013 at http://tinyurl.com/ow43tsx/.
Local Renewable Energy. (Marin Clean Energy, 2013). Accessed 9/11/2013 at http://tinyurl.com/pwocokf.
Cora, Casey. With Voter OK, Oak Park Pursues Electricity Aggregation. (OakPark-RiverForest Patch, 4/11/2011). Accessed 9/24/2013 at http://tinyurl.com/kfl7nke/.
CCAs in Illinois. (Local Energy Aggregation Network, 2013). Accessed 9/11/2013 at http://tinyurl.com/ppchnb7.
San Francisco CCA ordinance: Accessed 9/24/2013 at http://tinyurl.com/ny85elg.
Roberts, Chris. CleanPowerSF to rely on green credits, not actual renewable energy sources. (SF Examiner, 6/4/2013). Accessed 9/11/2013 at http://tinyurl.com/mf7e9ch.
Riley, Neal. PUC fails to set rates for CleanPowerSF. (San Francisco Chronicle, 8/14/2013). Accessed 9/11/2013 at http://tinyurl.com/oma6lt8.
Sabatini, Joshua. Mayor blasts CleanPowerSF as program funding could go to Rim Fire repairs. (SF Examiner, 9/11/2013). Accessed 9/24/2013 at http://tinyurl.com/lexmkwb.
CCAs in California. (Local Energy Aggregation Network, 2013). Accessed 9/11/2013 at http://tinyurl.com/q9frrzu.
Community Choice Aggregation Implementation Plan and Statement of Intent. (Sonoma Clean Power, August 2013). Accessed 9/24/2013 at http://tinyurl.com/mgs7djf.
Lydersen, Kari. Municipal aggregation: a new direction or the same old thing? (Midwest Energy News, 12/17/2012). Accessed 9/11/2013 at http://tinyurl.com/plvxvln.
Status of State Energy Code Adoption. (DOE, 2013). Accessed 8/9/2013 at http://tinyurl.com/dy8ac56.
Ibid.
Alabama and Colorado have a state code for state-owned buildings. Codes for private buildings are set at the local level. Also Code Adoption Process by State. (International Code Council, December 2012). Accessed 9/30/2013 at http://tinyurl.com/m7fuo5h.
National Energy and Cost Savings for New Single – and Multifamily Homes: A Comparison of the 2006, 2009, and 2012 Editions of the IECC. (U.S. Department of Energy, April 2012). Accessed 9/10/2013 at http://tinyurl.com/mls8pxw.
Lacey, Stephen. Are Efficiency Advocates and Home Builders Finally Seeing Eye to Eye? (GreenTech Media, 9/3/2013). Accessed 9/10/2013 at http://tinyurl.com/qc9fggq.
Code Compliance. (Institute for Market Transformation, undated). Accessed 9/10/2013 at http://tinyurl.com/pk44x4v.
Code Compliance Savings Potential. (IMT). Accessed 9/30/2013 at http://tinyurl.com/mavsmx7.
Austin energy code: http://www.cityofaustin.org/edims/document.cfm?id=191501.
Boulder County energy code: http://www.bouldercounty.org/property/build/pages/buildingamends.aspx.
Babylon energy code: http://ecode360.com/6806012?highlight=energy#6806012.
Seattle energy code: http://www.seattle.gov/dpd/codesrules/codes/energy/overview/.
Massachusetts Stretch Code: Appendix 120AA (Massachusetts 2009). (DOE Building Energy Codes Program, 2012). Accessed 8/14/2013 at http://tinyurl.com/mvep6fn.
Santa Monica energy code: http://www.smgov.net/Departments/OSE/Categories/Green_Building/Code_Requirements.aspx.
Marin County energy code: http://www.dsireusa.org/incentives/incentive.cfm?Incentive_Code=CA40R.
Your CAP Tax Dollars at Work. (City of Boulder, undated). Accessed 8/30/2013 at http://cl.ly/2b3C1n0d342f.
Chapter 3-12: Climate Action Plan Excise Tax. (Boulder City Code, 2013). Accessed 8/30/2013 at http://tinyurl.com/qht5rww.
Chapter 133: Solid Waste Management. Article I: Definitions. Accessed 8/30/2013 at http://ecode360.com/6807556.
Ibid.
Lancaster solar ordinance: http://www.cityoflancasterca.org/Modules/ShowDocument.aspx?documentid=19858.
Trabish, Herman K. Lancaster, CA Becomes First US City to Require Solar. (GreenTech Media, 3,27,2013). Accessed 8/20/2013 at http://tinyurl.com/l7rlf85.
Barringer, Felicity. With Help From Nature, a Town Aims to Be a Solar Capital. (New York Times, 4/8/2013). Accessed 8/20/2013 at http://tinyurl.com/cegj86c.
Caudle, Jason. Staff Report, City of Lancaster, Lancaster Power Authority. (Memo dated 11/8/2011). Accessed 9/10/2013 at http://tinyurl.com/pcs9t2f.
Green Miranda. California Towns Pass Law Requiring New Buildings to Have Solar Panels. (The Daily Beast, 5/10/2013). Accessed 8/20/2013 at http://tinyurl.com/lj8d38w. Also Ordinance link: http://cl.ly/2b3C1n0d342f.