We are pleased to announce our Spring 2013 online training schedule starting March 11th - less than a month away!



In the past few months, our curriculum development team has been very busy updating our online courses to align with our new textbook and adding innovative features such as mobile learning options and engaging lecture capture videos. We hope to see you in the SEI Online Campus soon!

Starting March 11th, SEI will be offering online sessions:


Completely Updated Online Courses with Mobile Video Lecture Capture

Every year SEI trains hundreds of people who start their solar training path with PV101 Solar Electric Design and Installation (Grid-Direct) - Online. Over the past few months our SEI Curriculum Team has completely overhauled this online course to reflect current PV technologies, industry changes, and alignment with our new textbook, Solar Electric Handbook: Photovoltaic Fundamentals and Applications.


Additionally, we have added a great new feature of Video Lecture Capture on your home computer or mobile on-the-go learning through your iPad, Tablet, or Smart Phone. This new presentation tool is used throughout the course and gives you the closest possible experience to an in-person learning experience.

You will meet some of our leading instructors who will not only give all the presentations throughout the course, but give personal stories and reflection that you would normally get in our in-person PV101 workshop. Watch this example Lecture Capture of Kris Sutton from our PV203 online course...
Online or In-person or Both?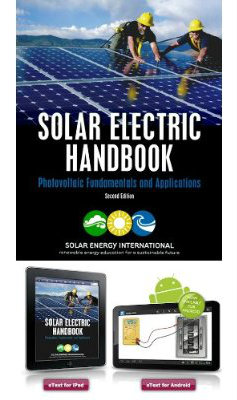 We get the following questions a lot so I wanted to take a moment to explain the SEI Online Campus experience.
"Do courses in SEI's Online Campus offer the same learning experience found in SEI's in-person classes?"
This is somewhat of a loaded question. Of course we can not offer a hands-on lab experience equivalent to our PV201L or PV301L lab weeks online, but as far as our classroom lecture-based workshops of PV101, PV202, PV203, and PV206....
The academic answer is: YES, it is the exact same!

"Is the curriculum the same?"
One of the things we pride ourselves in at SEI is the alignment of our curriculum throughout all learning opportunities within our organization - online or in-person. This means the curriculum you are exposed to in an online course is the exact same as if you were to travel to one of our in-person classroom workshop offerings.

All the same presentations, readings and resources, exercises, quizzes, and access to industry leading instructional support are found in our online courses. Every online course has at least 1 online instructor, a technical help desk, and a full online learning staff available to make sure you have the best learning experience. The difference between online courses and in-person workshops is that you have 6 weeks to work your way through the lessons in an online course vs. taking the course during a solid 5 day training week in an in-person workshop.

"Does online training satisfy SEI's in-person lab week prerequisite?"
Yes - often students will start their training online with PVOL101 online, and then will get the full hands on experience by coming to the PV201L Grid Direct Lab Week once they have fulfilled that 100 level prerequisite. It is important to remember that all of our in-person lab weeks do have a classroom prerequisite requirement.

"What about NABCEP training hours?"
As far as the NABCEP training hours you can earn by taking an SEI online course, many of the courses are actually worth more NABCEP training hours in the online version as we are able to give our students more opportunities for exercises, discussions, and Q&A with instructors in the 6 week online format.
For questions or more information about
SEI's Online Campus:
Phone: 970-963-8855 Option 1
or
Email:
sei@solarenergy.org