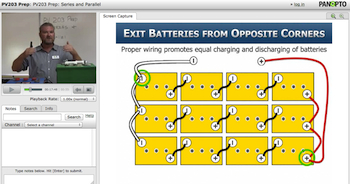 For over 20 years, SEI has been the leader not only in technical solar training, but also in the technology used to reach students all over the world through online learning. The SEI Online Campus is a perfect example of our efforts to use cutting edge instructional technologies to educate the world about renewable energy.
September 3rd - Advanced and Battery-based Solar Training
There are many students and SEI Alumni that want to take the next step and dive deeper into their solar training. SEI is pleased to announce two great upcoming online sessions starting September 3rd:
Just Getting Started?
If you are just getting started or haven't taken an online course in SEI's Online Campus, we always suggest the industry leading PVOL101 course from SEI. This session is also starting September 3rd:
New Online Learning Technologies
We have recently revamped many of our online courses and created totally new online offerings to leverage some of the most innovative online learning technologies available. With the recent launch of PV203 Prep: Battery-based PV System Fundamentals (On-demand), we are leveraging a technology called lecture capture that give you the next best thing to an in-person classroom experience. PVOL203 Prep is an on-demand course so you can start it anytime. If you are considering learning more about battery-based systems this is the perfect course to take.

Audio and Video Lecture Capture
Nothing beats coming to a SEI in-person classroom training or lab week to meet your instructors and experience their personalities and professional stories, but our new lecture capture technology is the next best thing. The SEI lecture capture technology allows for you to see or hear the instructor and the presentation slides just as they are presented in our in-person classroom courses. This technology is used throughout our PVOL206: Solar Business and Technical Sales course as well as our new PVOL203 Prep: battery-Based PV Systems Fundamentals online course.

Take a moment to watch an example lesson from Kris Sutton from our new PVOL203 Prep online course: Watch example Lecture Capture >>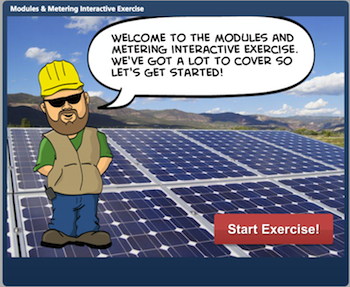 Interactive Exercises
Online courses inherently require a lot of reading, but we realize that this is not the strongest or preferred learning style for everyone. With this in mind, we have created a series of Interactive Exercises with audio, video, animation, and interactive elements.

In this new learning activity we use video from our PV Lab Facility to showcase many of the PV components and technologies that are showcased in our in-person training. There are short knowledge checks after each video to help ensure your mastery of the learning content.

Throughout PVOL101 Online we use engaging exercises to keep the course fun and interactive to check your knowledge along the way. Launch example Interactive Exercise >>

Phone: 970-963-8855 Option 1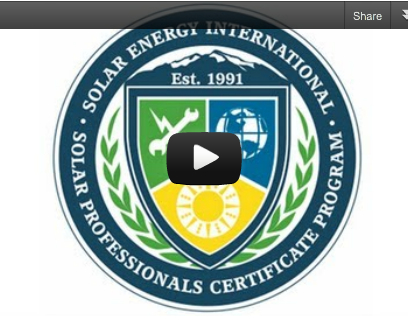 Solar Professionals Certificate Program
When we launched our new professional certificate program we realized that many people can't get away for a full week of classroom training in addition to a full week of in-person lab training. That is why we have created an entire online schedule of prerequisite courses to complete that portion of your training path before you come to the required in-person lab week(s).
Full 2012 Online Training Schedule >>

If you feel that you are ready to take that next step in your training or career goals, sign up for either of these sessions or any of our training offerings today. Both of these courses lead to graduation in SEI's Solar Professionals Certificate program. For questions and more information about SEI's Solar Professionals Certificate Program contact one of SEI's Student Advisors.
The information on this page was created and posted by the company identified above. RenewableEnergyWorld.com does not endorse, edit, or substantiate this information and assumes no obligation for this content's accuracy.