Santa Barbara, CA: WILL POPULATION GROWTH AND ENERGY RESOURCE DEPLETION HAVE DIRE CONSEQUENCES OVER THE COMING YEARS? That is the question this survey report answers, which provides keen insight into the minds of 2GreenEnergy readers regarding the future of our world, founded upon our growing demands for energy in the early part of the 21st century.
Craig Shields, editor of 2GreenEnergy.com and author of the report, IS IT TOO LATE? LIVING WITH A WORLD ENERGY CRISIS, finds this information quite revealing. "As shown quite clearly, there are a number of fundamentally different forecasts as to the quality of the future we face, at least to the degree that it is a result of the way we deal with the need to provide energy to a growing population. These people all have the same information at hand, but they use it to draw markedly different conclusions. It's fascinating stuff."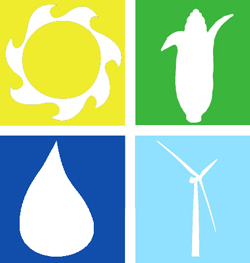 "Here's a good example of something I find interesting," Shields continues. "Only 19% disagree with the proposition that climate change will have disastrous consequences by 2030. However, 62% agree that we have more pressing problems right now than worrying about what 2030 will look like in terms of energy use, climate change, etc. That's a bit whacky – and more than a bit scary."

Perhaps, but is it really unexpected? Even the man who is accredited with the discovery of global warming (V. Ramanathan of Scripps Institute, who, in 1972, correctly predicted a measurable increase in the temperature of the Earth's atmosphere by 1980) understands the lack of concern. "People have a finite capacity for dealing with disaster," he told me in an interview. "When things are blowing up all around them right now, it is a sad truth that the majority of people are unable to process the gravity of a situation that will cause vast destruction decades hence."

The report, IS IT TOO LATE? LIVING WITH A WORLD ENERGY CRISIS, is available for free by visiting this link:
http://2greenenergy.com/june-survey-report/
Perception of global warming (real, or simply a hoax?) is just one facet of the report. While 73% disagree that these issues are perpetrated by environmentalist radicals, this leaves a healthy 27% of the respondent base holding the belief that there is at least some level of truth to the notion (6% strongly agree).

Respondents also weigh in on the following:

♦ Will renewable energy arrive too late to make a meaningful difference in the outcome to the health and safety of the world's population?

♦ Does clean energy hold real promise in redirecting our handling of environmental issues, or is it simply too expensive?

♦ Are our problems avoidable if we act now, or is it too late?

"As I review the responses, I see an interesting blend of feelings, beliefs, and concerns. Some of these people express a sense of overall optimism, based on the belief that mankind has always been successful in dealing with the crises it's faced in the past, and the concept that the future can logically be expected to look essentially like the past. Some of them however, see a crash landing, due to the intractable nature of the political and economic world around us. I was impressed with how much these people knew – about both economics and ecology," Shields says.

Participants were asked about issues of sociology, political science, and even philosophy:
♦ How, if at all, can we get people to take actions that do not further their own self-interest?

♦ Under what circumstances will people make sacrifices and change their lifestyles?

♦ What role does government need to take? How likely is this, given the current level of pressure lawmakers are under from special interests?

♦ If we're committed to a greater level of environmentalism, what is required to make this happen? A shoulder-to-shoulder effort, like we had in World War II? How would this happen?
I'm always impressed with how much we can learn, simply by asking folks to provide their opinions, perceptions, and viewpoints," says Shields. I think this report offers true insight into some of the biggest issues facing mankind."

Get the report, IS IT TOO LATE? LIVING WITH A WORLD ENERGY CRISIS, at this link:
http://2greenenergy.com/june-survey-report/

About 2GreenEnergy.com

2GreenEnergy.com helps clean energy business professionals, investors, and advocates "take good ideas forward," by offering a range of information products and consulting services. The database referred to in this report consists of subscribers to the free newsletter, available at http://2greenenergy.com/2greenenergy-alert/.